e-Newsletter: June 2023
e-Newsletter: June 2023
SPONSORED CONTENT
Kwantlen Polytechnic University
Computer Science and Information Technology Instructors – Melville School of Business
POSITION START: Sept 1, 2023
POSITION TYPE:
The Melville School of Business is seeking 1-year term, qualified Computer Science and Information Technology (CSIT) faculty members to start September 1, 2023. The successful candidates will be required to teach courses in support of the Bachelor of Technology in Information Technology Degree and the Computer Information Systems Certificate and Diploma. For more information about CSIT programs and courses, please go to
https://calendar.kpu.ca/
programs-az/business/
information-technology/
.
News
Recent Award by the IEEE Canadian Foundation
Congratulations to Aziz Rakhimov for being awarded the 2023 IEEE Canadian Foundation Gargantini-Strybosch Scholarship. Awardees are expected to demonstrate brightness (in a broad well-rounded sense, integrity, engagement with their community, and commitment & enthusiasm for undergraduate study in fields of interest to IEEE.
Aziz is a second-year electrical engineering student and the current chair of the IEEE UBC Okanagan Student Branch. Along with the student branch team shown in the photo below (with Aziz in the front row, second from the left), Aziz has organized multiple events at UBC Okanagan this past year including E-workshops & the IEEE Tech Industry Night.
IEEE Vancouver Section – Call for Volunteers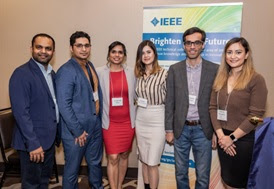 IEEE is an organization whose value to members depends much upon the volunteers who contribute. This is especially true when it comes to Section level activities. The Vancouver Section invites you to join as a volunteer and put your leadership skills to work while developing new skills and building connections with other local technology leaders. Start small with a committee role that interests you, or help as a volunteer at an event, or consider one of the more involved roles in an elected officer position if that is of interest. But first, let us get to know you, by filling out our
volunteer application form. We will connect you with a role that suits your abilities and interests.
Upcoming Events
Distinguished Speaker Lecture: Cryogenic CMOS for low power quantum computing applications: Roadmap, present status, challenges and opportunities
Dr. Sudipto Chakraborty of IBM T. J. Watson Research Center
Organizer:
Joint Solid State Circuits & Technology Chapter
Hybrid event, Tuesday, June 6, 04:00 PM to 05:30 PM, Room: MCLD 3038, Bldg: UBC MacLeod Building, 2356 Main Mall, Vancouver


This talk will cover practical challenges for cryogenic CMOS designs for next-generation quantum computing. Starting from a roadmap-level understanding and future trends, it will detail the design considerations for a non-multiplexed, semi-autonomous, transmon qubit state controller (QSC) implemented in 14nm CMOS FinFET technology. The QSC includes an augmented general-purpose digital processor that supports waveform generation and phase rotation operations combined with a low-power current-mode single sideband upconversion I/Q mixer-based RF arbitrary waveform generator (AWG).
Sudipto Chakraborty received his B. Tech from the Indian Institute of Technology, Kharagpur in 1998 and his Ph.D. in EE from Georgia Institute of Technology in 2002. He worked as a researcher at Georgia Electronic Design Center (GEDC) till 2004.
TALK # 17 – Vancouver Technology History
Dr. Chris Scholefield, Life Member
Organizer:
Life Member Affinity Group

Online event, Saturday, June 17, 10:00 AM to 11:00 AM.

The Vancouver Section has a rich history of technological innovation. There are many resources available that detail our past. During this presentation, you can take a look at the PWC Techmap, view the centennial pamphlet, browse the history wiki, and hear oral history recordings of technology pioneers.
Chris has worked in Vancouver Technology over the last 35 years, specializing in systems engineering in the wireless data, communications, and computer industries, including at MacDonald Dettwiller and Motorola. He was Chapter Chair of the Section Computer Society and is currently History Chair and Newsletter Editor. In his retirement, he continues his interest in amateur radio as VE7XH.
Distinguished Speaker Lecture: Optical Communication Networks Optimization
Prof. Wahab Almuhtadi, Carleton University
Organizer:
Joint Computing Chapter

Hybrid event, Tuesday, 27 June, 10:30 AM to 11:59 AM, Room: 2019, Bldg: BCIT SW1, 3700 Willingdon Avenue, Burnaby.

In recent years, we have been observing fast social and economic development, rapidly changing industries, and continuously growing demand for bandwidth. This development raises new challenging optimization problems for the optical communication networks. These problems are often very complex not only due to the optical network configurations but also due to their enormous traffic and operational complexity.
Prof. Almuhtadi has over 32 years of industry experience and over 26 years of university teaching experience. He is a Professor/Coordinator of the Optical Systems and Sensors Program, at Algonquin College, Carleton University, Canada. He was a Research Council Member, of the Digital Research Alliance of Canada.
This is a regular publication of the IEEE Vancouver Section.

Editor:
Dr. Chris Scholefield

Copyright © 2023
IEEE Vancouver Section, All rights reserved.
---